World Capital of Amber
Museums
Interactive exhibition hall "Amber Chamber"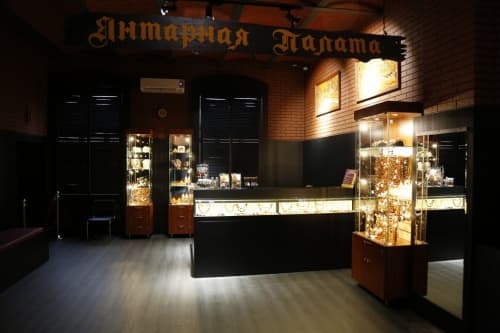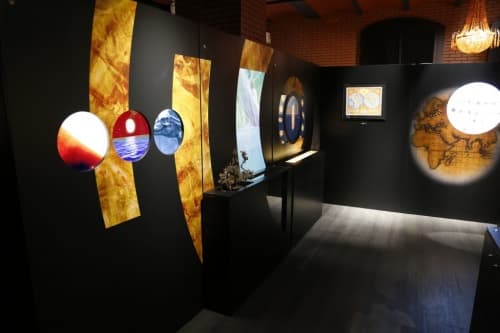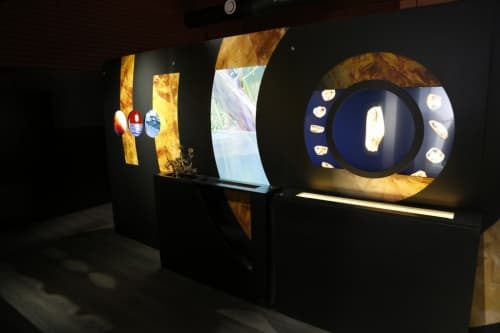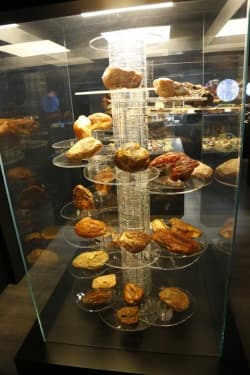 The Amber Chamber exhibition hall was opened on September 5, 2017. The works on the creation of a tourist display facility were timed to the 70th anniversary of the Kaliningrad Amber Combine, the only enterprise in the world leading industrial mining of amber in the open pit mine at the Primorskoe deposit.
The building of the former Tool Shop of the Kaliningrad Amber Plant was thoroughly repaired. In the former production premises of the workshop, a new trade and exhibition space was created that meets all modern requirements, including it was adapted for people with disabilities. The main task that the creators of the object set for themselves is to significantly update using modern architectural solutions and technologies, multimedia complexes and installations, the space of the exhibition hall, make it interesting and modern for all age groups of visitors, adequately present the industrial history and amber collection of the enterprise .
The exposition (400 sq. M.) Is located on the first floor of the building. According to the content, it is conventionally divided into natural science and cultural-historical parts, combining the following sections: * the origin of amber, amber-like fossil resins (copals), inclusions in amber; * historical knowledge of amber and amber trade routes; the history of the extraction of amber in the era of the domination of the knights of the Teutonic Order; * "The Amber Room" - three centuries of brilliant history; * the history of the village Palmnikenen - Amber, as the center of industrial production of amber in the XVIII - XX centuries; * Kaliningrad Amber Factory (1947 - 2017) - industrial history; * technologies for the extraction and processing of Baltic amber; * properties of amber, unique samples of amber (a collection of large nuggets); * technology of industrial processing of amber, imitation of amber; * "Amber Chamber" - a collection of amber objects (art objects), author's works and serial products of the Kaliningrad Amber Factory.
New modern trade and exhibition space, as an object of the tourist display of the enterprise, allows visitors not only to familiarize themselves with the exposition of the exhibition hall (excursion service is provided for all visitors of the hall), but also to purchase numerous amber souvenirs, gifts and jewelry: amber necklace, necklace, pendant or bracelet - for luck; Raw amber beads - a pledge of positive mood and longevity. Amber souvenir as a gift is a sign of best wishes, it gives warmth to its owner. A special photo zone is equipped in the hall - here you can sit on the "Amber Throne", try on an amber tiara and amber beads, take individual photos for memory.
Address: Kaliningrad region, Yantarniy vilage, St. Balebina, 1.
(Landmark - Central aisle of the plant near the water tower)
Operation mode:
Monday - Sunday from 09.00. until 18.00.
(lunch break from 12.00 to 13.00.).
Excursions in the exhibition hall are held every hour.
Beginning: 09-00, 10-00, 11-00, 13-00, 14-00, 15-00, 16-00, 17-00.
Yantarniy
Yantarniy vllage, 1 Balebina street
+7 (40153) 3-74-44
tour@ambercombine.ru
+7 (963) 737-22-30
09.00-18.00 (lunch break 12.00-13.00)