Polessk is a small town to the north of Kaliningrad, whose history begins in 1249 with a small fishing village on the river bank.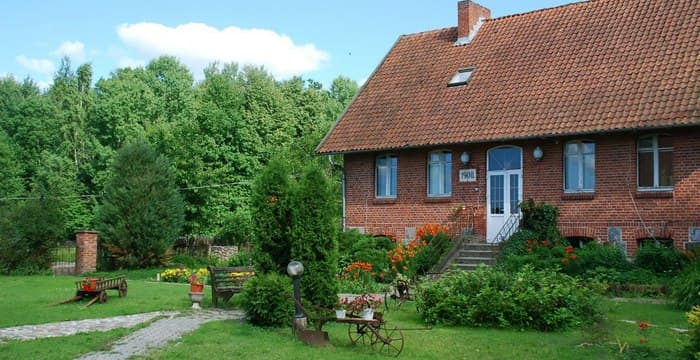 And this place was called then - Labagov, that from the Prussian labs means "good", and later the pronounced name of the city is Labiau (German Labiau).
In the Pole, the remains of the Teutonic castle of Labiau remained, and there were celebrities: the ambassador of the Grand Duke of Moscow Vasily III, the Russian governor of Königsberg Vasily Suvorov and the French emperor Napoleon I.
The journey will continue with a visit to the museum of the German school "Valdinkel" in the village of Ilichevo. "Waldvinkel" - the former name of the village and translates as "Forest Corner". In the windows of the museum you can see original notebooks, student portfolios and even certificates. The stands contain detailed information on the education system of East Prussia, memories and photographs of former students, live stories about the past of the village, about the difficult life of the first Soviet settlers. A separate part of the museum is dedicated to the forest and hunting riches of the Polessky region.
And the brightest part of the excursion for small travelers will be a visit to the agro-tourist farm "Pony-kony Dvor", where you can meet and have a good time in communication with a variety of pets. The inhabitants of the farm are many: horses, goats, cows, ducks, geese, guinea fowl, rabbits, pigs, cats. You can iron, feed, take pictures and ride (* horseback riding is paid - 150 rubles). The owner of the farm will tell you about the suits of horses, favorite pets, their features and even show the turkey show!
Offers in the spring-summer period (the schedule can also be kept year-round): - Tour operator "Junona": "Pony-horses and Waldvinkel" - on Sundays. & Nbsp; To make an appointment you can call tel. +7 (4012) 30 70 02; site of the tour operator & nbsp; www.kldtur.ru & nbsp Departure is carried out from the office of the tour operator at 8 Oktyabrskaya Street at 10:00.
The
- & nbsp; & nbsp; Travel agency "Hobby-tour": "History and wonders of rural tourism in the Polesie region"; "On a visit to the animals on the farmland" Pony-kony yard "," School excursion to the "Forest Khutorok." You can make an appointment by phone. +7 (4012) 52 42 52; travel agency website vk.com/hobbytur