The excursion is devoted to the history of brewing, traditions and holidays of the old Koenigsberg.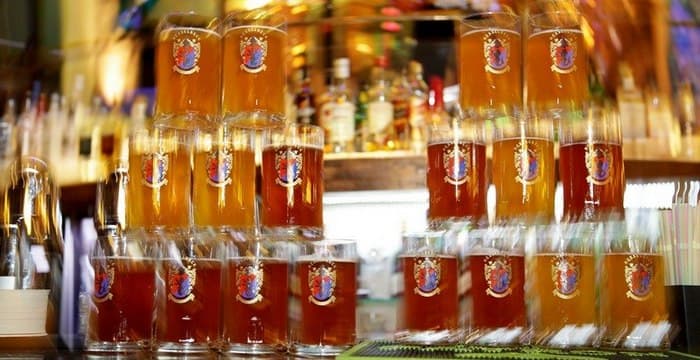 The tour is dedicated to the history of brewing, the traditions and holidays of the old Koenigsberg.

One of the routes includes a walk along the Royal Gates and a secret passage in the earthen rampart, as well as a visit to the fermentation shop in the former Reduite.
Another route starts from the site of the medieval Koenigsberg holiday "Long sausage" - the ruins of the Royal Castle - and then leads to the former brewery "Ponart". You will visit the German antiquities store, two famous breweries, and you will also see a fire and knight show (the show is available from April to October). At the end of the tour is a tasting of a foamy drink from the best brewers of the city.
The third route offers a visit to one of the famous beer restaurants in Kaliningrad, the entertainment complex "Residence of the Kings" and the castle-hotel "Nesselbek" with its own brewery. In addition to beer tasting, here you will see a real knightly duel.
If you want to immerse more deeply into the atmosphere of the Middle Ages, then for you the fourth route: during the dinner you can enjoy medieval music performed on bagpipes, tambourine and other traditional instruments, as well as learn to dance real medieval dances. The hosts of the evening will be the Teutonic Knights, who will tell you about the history of East Prussian brewing and the customs of the Teutonic Order. A fashion show of costumes of 15-16 centuries will complement the impression. In the dinner menu, freshly brewed beer, medieval meals, snacks and dessert.
Attention: the age limit applies. Offers all year:

- Travel agency "Korolevskyi zamok": "Beer Koenigsberg". You can make an appointment by phone. +7 (4012) 350 782, 77 66 75; site of travel agency kaliningradinfo.ru
- Every weekend in Shaaken castle is dancing and music programm. Pos. Nekrasovo, tel.+7 900 349‑22-77, +7 906 211‑73-00, shaaken.com
- Every weekend in "Nesselbeck" castle are organized horse and khight show with dinner. pos. Orlovka, tel. +7 40151 3‑73-03, +7 4012 39‑81-58 nesselbeck.ru
Please be informed that all group excursions are provided on Russian language.