Theatres
Family Recreation
Kaliningrad Regional Puppet Theater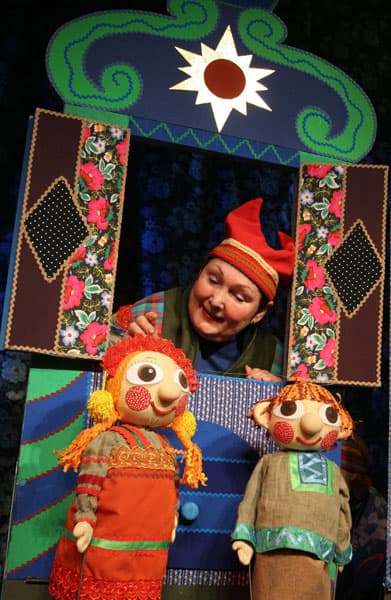 The Kaliningrad Regional Puppet Theater is located in one of the most beautiful buildings of the city, an architectural monument of the 19th century, a church in memory of Queen Louise (architect Fr. Heitmann). The church was built and consecrated on September 9, 1901. During the Second World War, the building was significantly damaged. Later, the surviving premises were used as a ski rental base. Architect Yury Vaganov worked on the restructuring and restoration of the puppet theater. In 1976, the regional puppet theater moved into this building.
For more than 45 years, the puppet theater has pleased its audience. The basis of his repertoire is performances for children based on plays by Russian, German, and English authors. The theater began its activities with the amateur group at the drama theater in 1963. In October 1964, the theater gained professional status. The founders of the creation of a professional theater were: director N.Tihonyuk, artist V.Volodkevich, artists - A.Bronsky, V.Kuzmin, E.Labukhina, E.Duboyskaya, R.Kudryashova. In the 70s, the troupe of the theater was formed from graduates of the Gorky Theater School (honored by Russia A. Kondrakov, honored by T. Gulag of Russia, Hon. Art. Of Russia by G. Moskalenko, N. Udalova).
Today, the theater repertoire includes more than 30 performances for children of preschool and primary school age. The theater successfully participated in international festivals in the cities: Brest (Belarus), Lodz, Pulawy (Poland), Husum (Germany), Panevezys, Klaipeda (Lithuania).
Kaliningrad Regional Puppet Theater is the only children's professional theater in the Kaliningrad region. Over the years of its existence, it has long grown from just a theater to a real cultural children's center, where children's events, gala concerts, various competitions and festivals take place. In the lobby of the theater there are constantly held exhibitions of children's drawings, as well as exhibitions of reproductions and paintings of artists.
Kaliningrad
Prospect Pobedy, 1а
+7 (4012) 21 43 35
teatrkukol91@mail.ru