The ensemble "The estate of the pastor of the parish of Yudshen, connected with the life and work of the philosopher Immanuel Kant, XVIII-XIX centuries" (House of Pastor)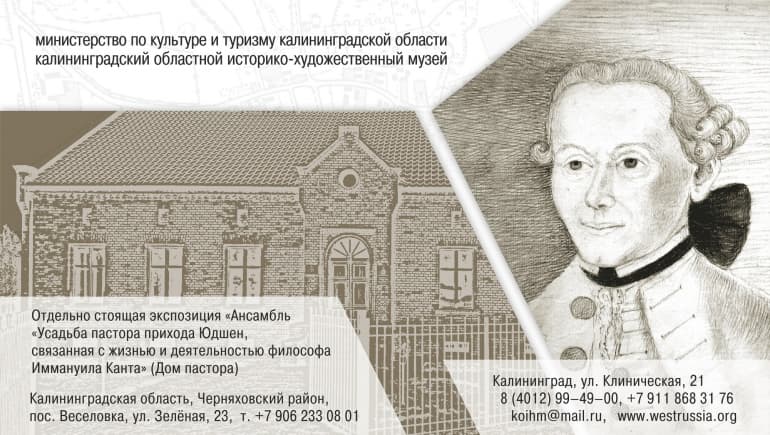 The pastor's house is located in the village of Veselovka of the Chernyakhovsky District of the Kaliningrad Region (former Yudshen, from 1938 - Kanthausen). It was here in the period from 1747 to 1750. (according to other sources, in the years 1748-1751) Immanuel Kant worked as a home teacher in the family of the Protestant (Reformed) priest Andersh, who taught his three younger sons. These years were filled with the study of numerous scientific works and intense creative work. One of the first letters of Kant known to us was written in the village of Yudshen on August 23, 1749. With him, he sent Albrecht von Haller a copy of his first work, "Thoughts on the True Evaluation of the Living Force".
At present, a pastor's house has been preserved on the territory of the museum site (it was rebuilt twice on the old foundation) and the foundations of several outbuildings. The preliminary concept of the development of the territory as a tourist-educational landscape complex "KANT-RESIDENCE" was developed in March 2014. By order of the State Service for the Protection of Cultural Heritage of June 19, 2015, the Pastor's House is included in the register of cultural heritage sites of the peoples of the Russian Federation as an object of cultural heritage of regional importance.
By order of the President of the Russian Federation of August 1, 2016, funds for the restoration of the facility and its adaptation to modern use were allocated to the federal budget. The corresponding document was published on the official Internet portal of legal information. Restoration of the pastor's house and improvement of a part of the adjacent territory were completed in 2018.
Chernyakhovsk
Chernyakhovsk region, Veselovka village, Zelenaya street, 23
+7 (4012) 92-29-79
dom-pastora@mail.ru
from 10.00 till 18.00 (cashbox– till 17.00). Day off – Monday,Tuesday