Churches
Kirch Heinrichswalde
Kirch Heinrichswalde


Slavsk
Sovetskaya street, 6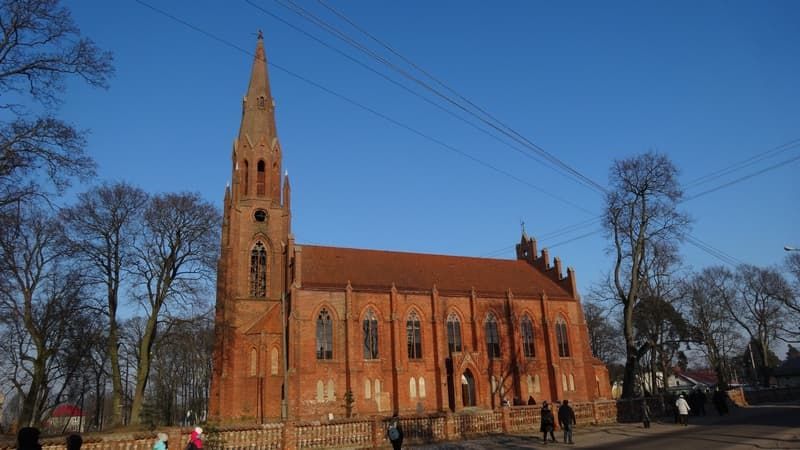 The first church in Heinrichswald was built in 1686 - it was a small wooden evangelical church that belonged to the von Halle family. But soon the church ceased to hold all believers, so in 1691 the widowed owner of the estate, Rosina von Halle, laid the first stone in the foundation of the new church. The latter was also wooden, but much larger, had a turret with a bell tower and served until 1861. A large temple was built in its place, which was consecrated in 1869.
The new church became a real decoration of Heinrichswalde: sustained in strictly neo-gothic style, with a massive red tile roof, with a huge hall with pointed arches of windows, with a tent tower (height - 49 m), it solemnly and towering over all buildings in the city. During the construction, parts of the preserved structure of the old church were used. A typical decoration of the facade of the Gothic temple in Heinrichswald is the so-called rose - an ornament in the form of a round stone flower.
The altar and font were made of red sandstone. From the old wooden church in the decoration of the temple survived only remnants of woodcarving. In the empore, at the church entrance, there was an organ established in 1874. There were three bells in the church tower (1686, 1717 and 1828). In 1901, the bell tower of the Heinrichswalde church was damaged for the first time by a lightning strike, the second time it happened in the summer of 1953, when during a thunderstorm a cross was hit by a lightning strike on a tower. In Soviet times, the church building was used as a warehouse of the Slavsk consumer society, and thanks to this, it was preserved. In August 1991, divine services began again in the church, first the Russian Orthodox Church abroad; In 1993, the church building was transferred to the use of the Lutheran Evangelical community created by settlers from the southern republics of the former USSR. At the expense of the community, the building was restored, finishing work was carried out inside the church, and the original fence was restored around it. In 2010, the building was transferred to the ownership of the Kaliningrad diocese of the Russian Orthodox Church.