High Directorate of posts
Buildings
High Directorate of posts
High Directorate of posts


Kaliningrad
Kaliningrad, Grekova street, 2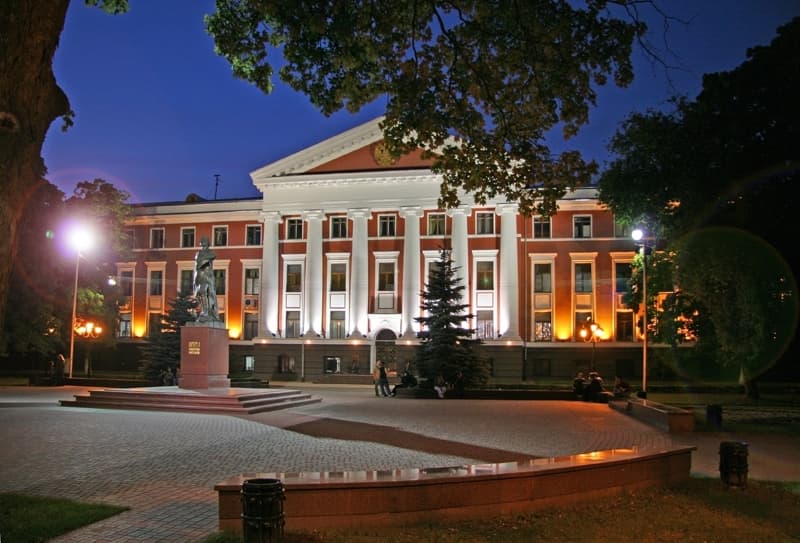 The post office building was built on the corner of Hansa ring and Brahms Strasse in 1916. It became one of the few examples of Neoclassicism in the city, which gained considerable popularity at the turn of the century, but did not take root in Koenigsberg. The Directorate is quite simple and concise in its execution – five floors (including the basement and attic) form the facades of four wings, located in the form of a quadrangle around the courtyard. The main decoration of the building was and remains a monumental portico with six ionic columns.
The Post office suffered greatly during the war. The tiled roof was destroyed, the right part of the pediment collapsed, the building was completely burned out from the inside. However, the destruction was still non-critical and the building, located at the beginning of a relatively mild affected area of Hofen and was recovered virtually intact (with the exception of steepflank roof – such a simplification of the facades has been practiced in the post-war Kaliningrad everywhere). Originally there was supposed to host the regional Committee of the Communist party, but eventually he settled in the well-known "red house" Dmitry Donskoy 1 – a renovated building of the former Supreme Directorate occupied by the military, in the postwar years, possessed considerable influence in Kaliningrad.
In 2000-ies the facade of the headquarters of the fleet periodically renewed; however, very selectively – so, at the beginning of the decade was re-painted the "front" of the South and West facades, and in the middle of the decade, was re-renovated the main facade.
In 1996, in honor of the 300th anniversary of the Baltic fleet, a monument "Flagpole"was installed in the Park opposite the headquarters building. In 2003, it was replaced by a monument to the founder of the fleet Peter I, which became one of the prominent attractions of the city. Currently, it houses the headquarters of the red banner Baltic fleet twice.