Königsberg roller mill. L. Steinfurt AG Carriage Factory
Buildings
Other sights
Königsberg roller mill. L. Steinfurt AG Carriage Factory
Königsberg roller mill. L. Steinfurt AG Carriage Factory


Kaliningrad
Pravaya Naberezhnaya, 15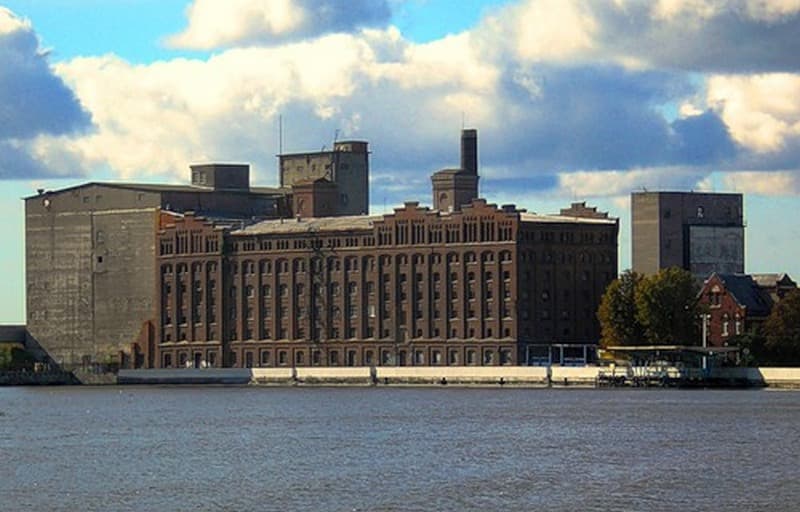 The seven-story building of the mill arose somewhat earlier than the vault. It is not as elongated as a warehouse, but due to the red brick facade it shows a similarity in design with the repository. Unlike the latter, the mill has no tower-like superstructures. The roller mill was the largest rye mill ever built. However, all other types of grain could also be thrashed on it. Most often, rye from Russia fell to the millstones (up to 43,000 tons per year). Grain was exported in the form of flour, and bran found application in agriculture. After the war, the building was quickly restored. Now it is the only working grain mill in Königsberg. The left, south-western part was completely destroyed. The old facade was not restored. Instead, there is a solid blank wall (somewhat higher than the previous one).
To the east of the repository there is L. Steinfurt AG carriage factory.
Arndtshtrasse / Holsteiner Damm 89 – 103 Vagonostroitelnaia Str.
Founded in 1830 by Leopold Steinfurt, the machine factory and foundry later produced mainly railroad cars. Since Weidendamm's original factory territory became too small, in 1903/04 there was a transfer of capacity to a more convenient area, to which railway tracks fit the north, and the Pregolya River flows to the south. (In 1910, the new plant was generally ready). In 1930, the 30,000th railway car was produced. At times, the company employed up to 1,200 people. As the old aerial photographs show, factory workshops at different times were often built from very small building forms that corresponded to the production needs of the time. Large workshops with uniform design stood only in the eastern part of the factory territory. Steinfurt AG was a leading enterprise, in particular, between the two world wars, in the construction of apartments and houses for its employees. This is particularly evident in the construction of the Ratshof settlement. After the war, the plant was relatively quickly restored. At the same time, they resorted to the same division of territory as in German time.